Way Forward

*The organizations included below are mostly based and/or focused in the Global North. This is due to numerous reasons, including language barriers and our current experience being in the Global North.
If you are aware or are a part of other organizations or resources we can add to our list, particularly in the Global South, please email us at yeltekindafne@gmail.com or zainabakoli97@gmail.com.


Way Forward 1:
Abolition & Demilitarization

Drawing from the Black Radical traditions, bringing an abolitionist framework to the climate crises brings with it an understanding that true security comes from the presence of collective wellbeing, building institutions which foster the social and ecological relationships needed to live dignified lives. An abolitionist framework stands in opposition to seeing "others'' as threatening or the labeling of events as "threat multipliers." It goes against patriarchal notions of domination and

epistemologies of mastery

. It rejects the realist logic of international relations which sees one state's gains as a loss to another. Instead, the abolitionist framework challenges the state institution and seeks to build solidarity between local and global peoples. Through this transnational perspective and solidarity-building work premised on abolition, true solutions to climate change and other social ills can come forth.

By centering on collective security, an abolitionist approach to climate would necessitate the defunding and complete dismantling of the Military Industrial Complex (military, intelligence, border regimes). It would instead allocate funds towards the construction of alternative institutions which provide the collective security needed for both human and non-human kin, including reparations to those most harmed by military industrial violence. The Red Nation's

Red Deal

, drawing on Black abolitionist tradition, calls not only for a divestment away from carceral practices of the state apparatus, but a similar divestment from the exploitative and extractive violence at the heart of the fossil fuel economy.

The first step is divesting from the current

$2.1 trillion global military spending

and reinvesting in climate finance; a tax on offshore corporate profits could raise $200–$600 billion a year towards supporting vulnerable communities impacted by climate change.

A demilitarized future is possible. Countries like

Costa Rica

and Panama are examples that armies do not keep people safe and that abolition is the answer.


Organizations leading the way in Abolition & Demilitarization:

(active throughout the US, with solidarity with global organizations)
Grassroots Global Justice is an alliance of over 60 US-based grassroots organizing groups comprised of working and poor people and communities of color advocating for

No War, No Warming

, Build a Just Transition to a Feminist Economy. GGJA's

DemilitaRISE

is a working group bringing together members who are involved in grassroots organizing or people impacted by US militarism, both at home through police and ICE violence, occupied Indigenous lands, racial profiling, mass incarcerations and detention, and globally from war-impacted communities, as well as veterans enduring grave trauma. They adopt Feminist Abolitionism and About Face's frameworks.




The United Frontline Table is comprised of the following networks, alliances, coalitions, and their members, with the cooperation of movement support organizations: Asian Pacific Environmental Network, Center for Economic Democracy, Climate Justice Alliance, Grassroots Global Justice Alliance, Gulf Coast Center for Law and Policy, Indigenous Environmental Network, It Takes Roots, Kentuckians for the Commonwealth, Labor Network for Sustainability, New Economy Coalition, People's Action, Right to the City Alliance, The Rising Majority, Trade Unions for Energy Democracy, and UPROSE. Their

A People's Orientation to a Regenerative Economy Report

presents fourteen planks for a regenerative economy, one of which is

Divest From Wars, Criminalization & Militarism At Home And Abroad - Invest In A Regenerative Future

.



Muslim Abolitionist Futures is an interactive platform to learn and engage with the stories and work of resistance against the War on Terror. Their

Abolishing the War on Terror Grassroots Policy Agenda

, was built as a collaboration between grassroots and community-based organizations whose members are impacted by and have organized against the War on Terror.







We are Dissenters is a national movement organization that is leading young generations to reclaim resources from the war industry, reinvest in life-giving institutions, and repair collaborative relationships with the earth and people around the world. We are Dissenters seeks to build local teams of young people across the country to force elected officials and institutions to divest from war and militarism, and reinvest in what communities actually need - homes, healthcare, and education.


About Face is a post-9/11 service members and veterans organizing to end a foreign policy of permanent war and the use of military weapons, tactics, and values in communities across the country. They seek to use their knowledge and experiences to expose "the truth about these conflicts overseas and the growing militarization of our communities here at home," building a movement of service members and veterans to tackle the root causes of war through the transformation of "ourselves, our values, and American society." They take action in solidarity with all people impacted by wars abroad and at home, which is critical towards the realization of their vision of a world free of militarism.


The Arab Resource and Organizing Center (AROC) is a grassroots organization working to empower and organize their community towards justice and self-determination for all. AROC members build community power in the Bay Area by participating in leadership development, political education, and campaigns. A key part of their community organizing is focused on Anti-War and Anti-Militarism, mobilizing against both policing and militarization. They believe that the global nature of policing and repression is directly related to the relationship between U.S. imperialism and Zionism. Supporting BDS and the liberation of Palestine is integral to the liberation of all people.


Demilitarize US to Palestine is a national network of individuals and grassroots organizations that seeks to end state violence and police militarization in the U.S. and Palestine. They provide a space for individuals and organizations to connect with one another and share strategies and tactics for demilitarization campaigns in the US and Palestine, with the aim of empowering local organizing with the tools and resources necessary to lead and develop abolitionist demilitarize campaigns in their local contexts.

Veterans for Peace is a global organization of military veterans and allies whose collective efforts are to build a culture of peace through the use of their experiences and lifting their voices. Veterans for Peace has a network of 140+ chapters worldwide. Their work includes educating the public about the true causes of war and its enormous costs, advocating for a dismantling of the war economy, providing services that assist veterans and victims of war, and working to end all wars.
Founded in 1921, War Resisters' International is a network of over 90 pacifist and antimilitarist organizations in over 40 different countries who work together for a world without war.



War Resisters League is the oldest secular pacifist organization in the US, founded in 1923 by individuals who opposed WW1. Members of the WRL agree with their pledge: "WRL affirms that all war is a crime against humanity. We are determined not to support any kind of war, international or civil, and to strive nonviolently for the removal of all causes of war, including racism, sexism, and all forms of exploitation." Their strategies include education, organizing, strategy, and direct action with the goal to sow and grow "seeds of peace and liberation in our time".



Stop the War Coalition was founded in the UK in September 2001 in the weeks following 9/11 and has since been dedicated to preventing and ending the wars in Afghanistan, Iraq, Libya and elsewhere.They are committed to supporting Palestinian rights, opposing racism and Islamophobia, and to the defence of civil liberties.

War on Want works in the UK and with partners around the world to fight poverty and defend human rights, as part of the movement for global justice. It works in partnership with grassroots social movements, trade unions and workers' organizations in the Global South and across the world, specifically focusing on militarism and repression.

Focus on the Global South was established in 1995 to challenge neoliberalism, militarism and corporate-driven globalization while strengthening just and equitable alternatives.



SOA Watch is a nonviolent grassroots movement working to close the SOA / WHINSEC and similar centers that train state actors such as military, law enforcement and border patrol. They strive to expose, denounce, and end US militarization, oppressive US policies and other forms of state violence in the Americas. They act in solidarity with organizations and movements working for justice and peace throughout the Americas.





The Movement for Black Lives is a space for Black organizations across the country to debate and discuss the current political conditions, develop shared assessments of what political interventions are necessary in order to achieve key policy, cultural and political wins, convene organizational leadership in order to debate and co-create a shared movement wide strategy. They are rooted in the fundamental idea that we can achieve more together than we can separately.



More Resources on Abolition & Demilitarization:
Books, Articles, and Reports:




Way Forward 2:
Land Back

Globally, militaries are usually the largest land 'owners' in most countries and much of their unparalleled fossil fuel consumption goes into transportation across their spread-out infrastructure. The US has

800 bases in over 80 countries around the world

, with an additional 740 military bases within the US, of which a total of 315 are army installations. The land for military bases is more often than not violently taken, with the US military having a long and documented history of violence and dispossession against Indigenous peoples. Continued military presence within these lands perpetuates long standing histories of violence against Indigenous peoples. Military testing in areas home to Indigenous peoples have long been linked with health problems. A

study

by the Environmental Working Group found 385 military sites with PFAS - known as "Forever Chemicals," contamination in addition to 294 DoD installations with groundwater contamination.

Contrast that with a 2018 study in

Nature

, which showed how despite making up less than 5% of the total population, Indigenous people manage their lands in ways that support, sustain, and protect genetic species, and ecosystem diversity. It is estimated that Indigenous peoples protect

80% of all biodiversity

. The Indigenous Environmental Network's

Indigenous Principles of Just Transition

, centers the need for systemic change wherein the eco/genocidal impetus of imperial ambitions is swapped out for a relationship of reciprocity, respect, and mutual flourishing for both humans and non-humans.

The United States' imperial ambitions, and those militaries which it supports (i.e. Israel, Saudi Arabia, Egypt, etc) continue to perpetuate violence upon the land and the people. Centering imperialism from the East and West as the greatest facilitator of capital and environmental degradation, is urgently needed if we are to chart a pathway forward.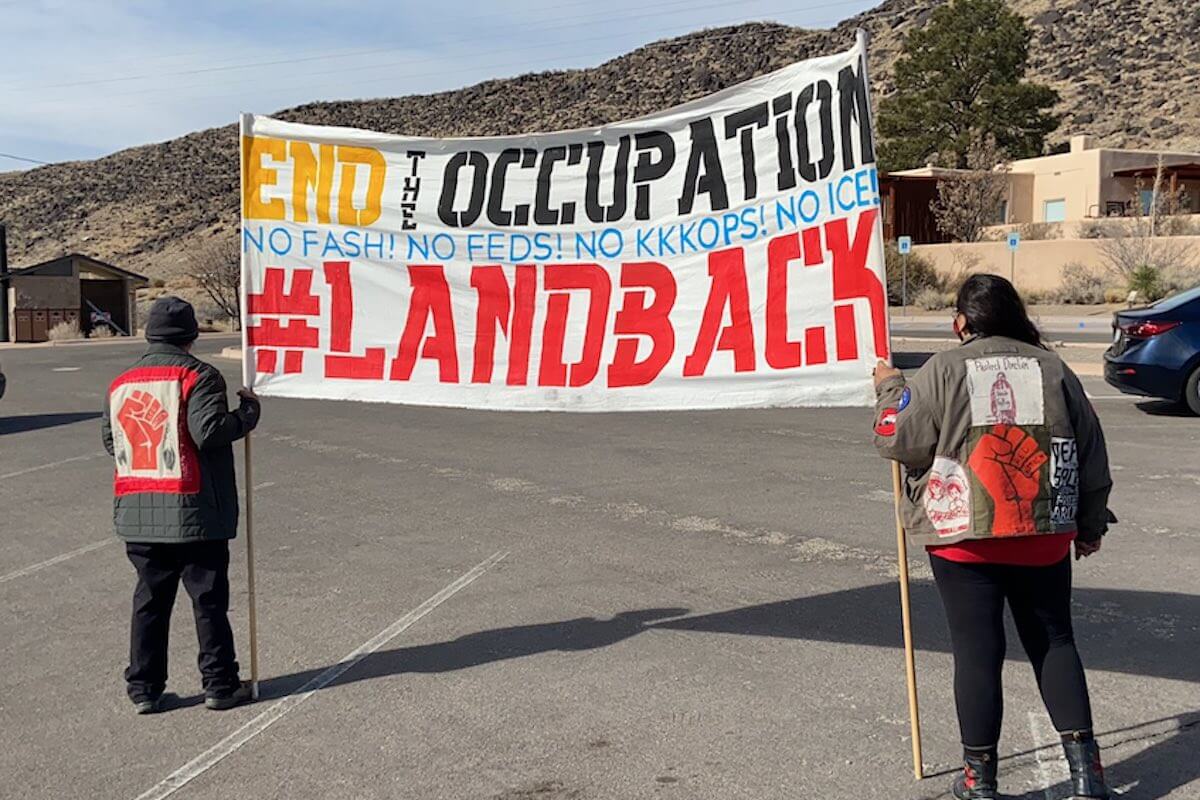 Members of the Red Nation protesting an attack by a national park service ranger on Darrell House, of the Diné and Oneida Nations at the Petroglyph Park in Tiwa Territory (Albuquerque, NM)
(Source: Twitter / @The_Red_Nation)


The Red Nation's Red Deal Part 1: End the Occupation reminds us to open our eyes and ears to when US imperialism is framed as the solution to human rights or environmental crises. We must reject intervention at all times, seeking to organize and educate the community around the fight against imperial ambitions. From Palestine to Turtle Island, and everywhere in between, land must be returned, not as a metaphor, but as a real, tangible act.

For more on decolonization and land back, see our Land page.


Source: The Red Nation


Organizations leading the way in Land Back:



The Red Nation is a coalition of Native and non-Native activists, educators, students, and community organizers advocating Native liberation from capitalism and colonialism. The Red Nation's

The Red Deal

is a platform that calls, among many things, to End the Occupation through demilitarization, police, prison and ICE abolition, and tearing down all border wall.






NDN Collective is an Indigenous-led organization dedicated to building Indigenous power. Through organizing, activism, philanthropy, grantmaking, capacity-building and narrative change, they are creating sustainable solutions on Indigenous terms. NDN Collective believes that

Demilitarization is Decolonization

and that

The Right of Return is Land Back

.


Source: Twitter / @ndncollective
More Resources on Land Back:
Books, Articles, and Reports:




Way Forward 3:

Desecuritization & Ecological Security

International and national securitization is not the answer to the climate crisis as it creates more insecurity for those affected by it. Instead, demilitarization means ecological security. An ecological security approach seeks to challenge anthropocentric notions, centering the security of the biosphere and reframing the relationship between people and the environment as a collaborative one rather than seeing the environment as a threat. This discourse allows for a more systemic approach to climate change that examines the structural roots of the climate crisis as the overlapping economic, political, and social issues of the global system. Within this approach, both the boundaries of the nation-state and the notion of security itself are challenged. The role and work of non-state transnational actors and global civil society such as grassroots organizations, social movements, new forms of sovereignty, and marginalized communities on the frontline of the climate crisis is central.

Organizations leading the way in Desecuritization & Ecological Security:

Rethinking Security is a network of UK-based organizations, academics and activists working together for security based on justice, cooperation and sustainability.

The Transnational Institute (TNI) is an international research and advocacy institute committed to building a just, democratic and sustainable world.

TNI's War and Pacification Program

looks at the nexus between militarization, security and globalization. TNI uses the word "pacification" to replace what is usually defined as "security" because it recognizes that many policies adopted in the name of security have increased social control and violence.



CAAT is a UK-based organization working to end the international arms trade. CAAT's priorities are to stop the procurement or export of arms, end all government political and financial support for arms exports, and promote progressive demilitarization within arms producing countries. CAAT considers that security needs to be seen in much broader terms that are not dominated by military and arms company interests. A wider security policy would have the opportunity to reallocate resources according to actual threats and benefits, including addressing major causes of insecurity such as inequality and climate change.

More Resources on Desecuritization & Ecological Security:
Books, Articles, and Reports:




Way Forward 4:
Transnational Feminism


A transnationall feminist approach is crucial to interrogating the patriarchal system - the toxic masculinity of the military and weapons, white petro-masculinity and heteronormativity – and gender dynamics that exist at the core of militarized responses to climate change. Cis-hetero-masculinity reinforces myths of militarism as a way of life where those deemed weaker face oppression. Additionally, gender discrimination and gender-based violence arise more during and after armed conflict as weapons facilitate femicides and violence against queer and trans people. War also leads to forced displacement disproportionately affecting women, girls and queer people leaving them at greater risk of abuse, trafficking and forced prostitution.

A feminist lens allows to look at the ways in which women and LGBTQIA+ people, especially BIPOC communities, are disproportionately affected by armed conflict and violence and how it can inform anti-militarist approaches.

Organizations leading the way in Transnational Feminism:

INCITE! is a network of radical feminists of color organizing to end state violence and violence in our homes and communities.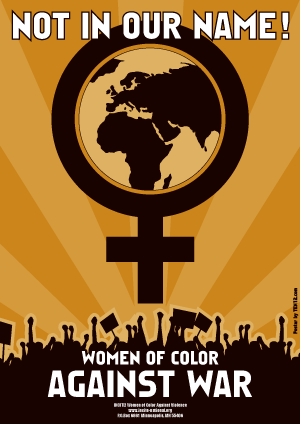 Source: INCITE! / "Women of Color Against War Flyers & Stickers," artwork by Favianna Rodriguez


The Consortium's work aims to use knowledge about gender and security to end armed conflicts and build sustainable international peace.

More Resources on Transnational Feminism:
Books, Articles, and Reports: